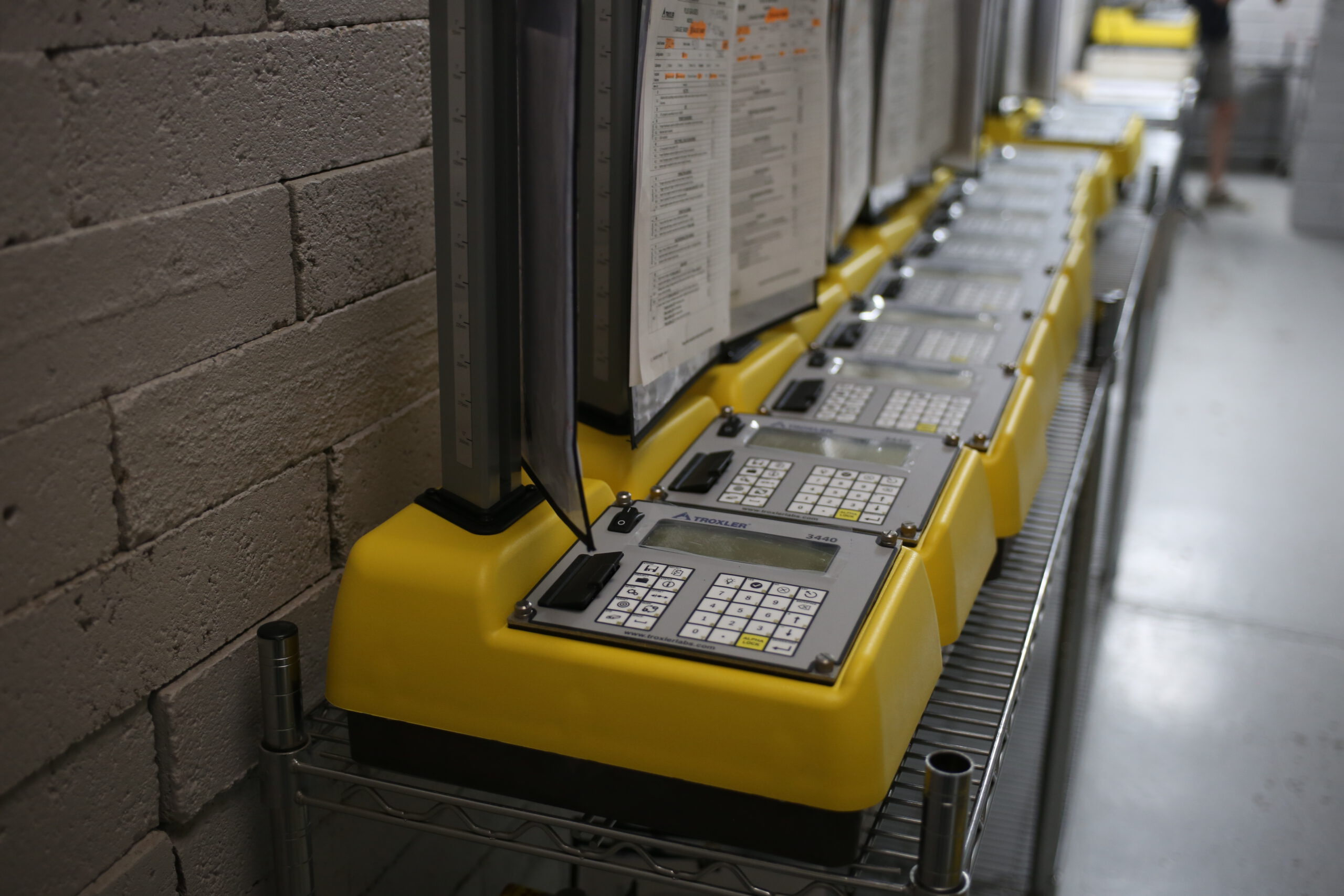 The RoadReader 3450 Thin Layer & Full Depth Density Gauge is the most versatile moisture density gauge ever produced. It combines the measurement modes proven in thousands of Troxler 3400 series gauges with a patented method for true thin layer asphalt and concrete bridge deck overlay density measurement.
By combining thin layer and full depth measuring capabilities in one instrument, the RoadReader 3450 is our flagship gauge in the 3400 series. With its versatility, speed, and economy, the RoadReader Plus is designed to satisfy your compaction control needs at every stage of your project.
Easy Operation and Quick Measurements
The RoadReader is simple to use. An expanded keypad and easy-to-follow prompts provide access to all major gauge functions. It also provides both density and moisture measurements without time-consuming calculations, including wet density, dry density, moisture, percent moisture, percent compaction, percent voids, and percent air voids.
Additional Features
A backlit screen provides exceptional viewing for low-light and nighttime testing.
An adjustable beeper signals test completion over the roar of traffic or heavy equipment.
The gauge stores up to 1,000 test readings under multiple projects for future use and/or download.
The free Troxler App makes data transfer to a portable device simple.
Like all 3400 series gauges, the Model 3450 meets ASTM Standard Test Methods D6938, D2950, C1040, and also AASHTO T 310 and T 355.
Specifications
Measurement (U.S. Customary Units)

Direct Transmission Density (6″)

Precision at 120 pcf

Composition error at 120 pcf

Surface error (0.05″, 100% Void)

Backscatter (98%) (4″)

Precision at 120 pcf

Composition error at 120 pcf

Surface error (0.05″, 100% Void)

Moisture at 15 pcf

Precision at 15 pcf

Surface error (0.05″, 100% Void)
Depth of measurement @ 15 pcf (8.45″)

Measurement (S.I. Units)

Direct Transmission Density-150mm

Precision at 2000 kg/m3

Composition error at 2000 kg/m3 

Surface error (1.25mm, 100% Void) 

Backscatter (98%) (100mm)

Precision at 2000 kg/m3

Composition error at 2000 kg/m3

Surface error (1.25mm, 100% Void)

Moisture

Precision at 250 kg/m3

Surface error (1.25mm, 100% Void)
Meas. Depth @ 250 kg/m3 – 212.5mm

Thin Overlay Mode

Precision at 2240 kg/m3 (140 pcf)

Time (minutes)

Radiological

Gamma Source

0.30 GBq (8 mCi) ±10% Cs-137

Neutron Source

1.48 GBq (40 mCi) ±10% Am-241:Be

Source Type

Sealed Source – Special Form

Source Housing

Stainless Steel Encapsulation (single or double)

Shipping Case

Type A, Yellow II, TI =0.6

Electrical

Power Source(s)

NiCad and AA Alkaline Batteries

Stored Power

33 watt-hours

Average Power Consumption

Idle Mode: 0.12 watts
Measurement Mode: 0.17 watts
Standby Mode: 0.06 watts
Backlight Mode: 0.6 watts

Default Time before Sleep Mode

30 seconds between key presses, no loss of data or previous status

Time before Automatic Shutdown

5 hours of complete inactivity

Battery Recharge Time

4 hours maximum, automatic shutoff

Charge Source

12 V dc Nominal, 800 MA minimum

Readout

4 x 20 alpha-numeric backlit LCD

Keypad

33 key sealed membrane

RAM

128 kbytes non-volatile

Serial Data Format

8 data bits, 2 stop bits, no parity

Mechanical

Gauge Height (with handles)

12″ rod: 604 H x 411 L x 229 W mm
(23.8 H x 16.2 L x 9.0 W in.)8″ rod: 503 H x 411 L x 229 W mm
(19.8 H x 16.2 L x 9.0 W in.)

Case

High Impact Plastic
785 H x 353 L x 455 W mm
(30.8 H x 13.9 L x 17.9 W in.)

Weight

17 kg (37.5 lbs.)

Shipping Weight

43 kg (96 lbs)

Operating Temperature

32º to 122º F  (0º to 50º C)

Storage Temperature

0º to 140º F  (-18º to +60º C)

Max Text Material Surface Temp.

175°C (347°F) for 15 minutes

Humidity

98%, non-condensing
In addition to all the features found on the Models 3430 and 3440, the RoadReader 3450 Thin Layer & Full Depth Density Gauge gives you these additional features:
Covers all density and moisture measurement needs
Measures thin layer asphalt, full depth asphalt, soil, and aggregates
Runs on quick charge NiCad batteries or alkaline batteries
Sleep mode allows the gauge to conserve power when not in use
Adjustable beeper can be heard over traffic and equipment
Stores up to 1,000 test results
Backlit display allows for nighttime use
An alphabetical keypad allows you to enter notes for each project
An 18-month warranty