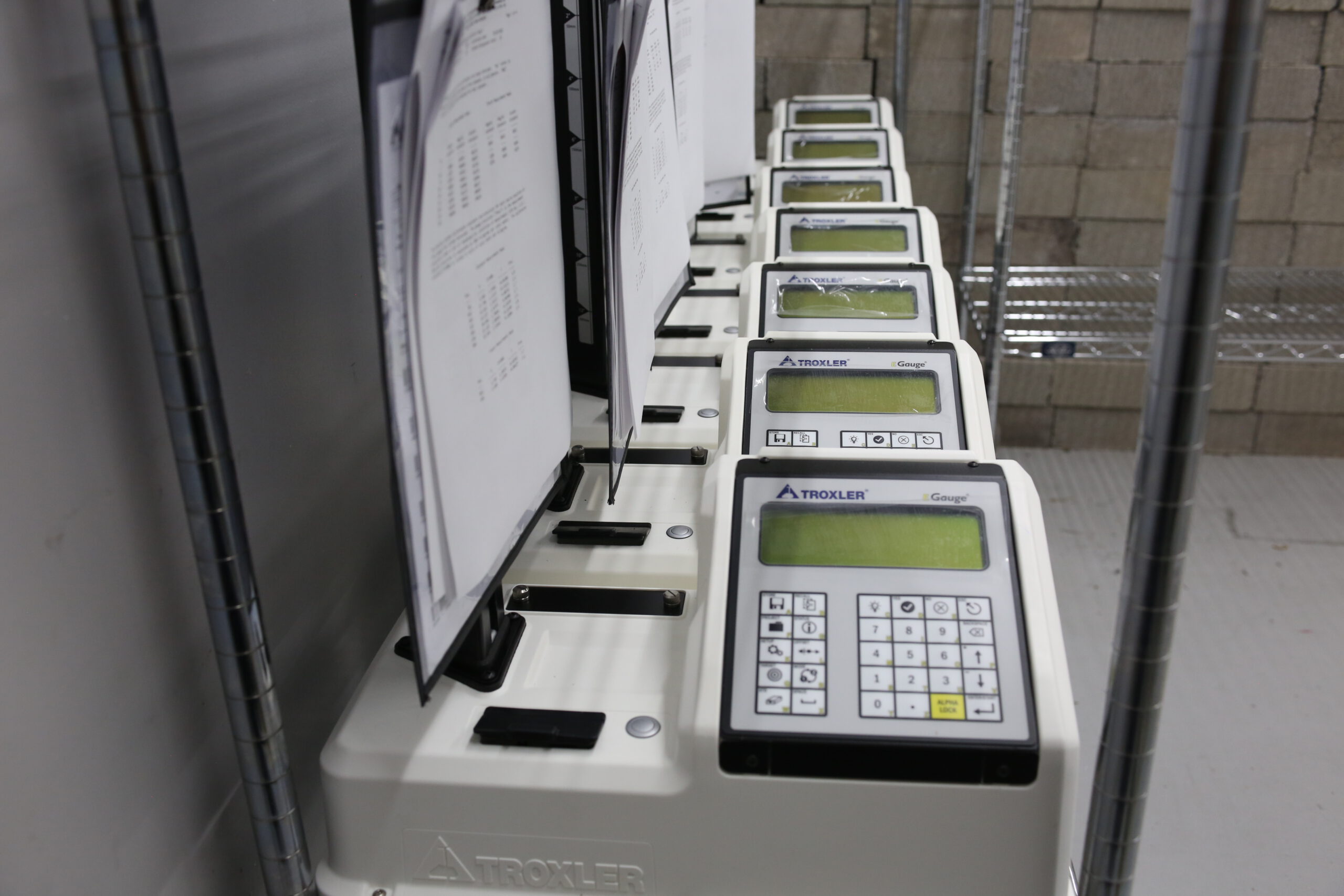 License Exempt, Troxler Accurate
From the inventor of the nuclear density gauge comes the ONLY combination nuclear gauge that is License Exempt!
License Exempt
Less hassle and saves money.

Eliminates: RML, Reciprocity, TLD Badges, Storage Requirements, Transportation Documents, Double Locks, Leak Tests, Record Keeping, Emergency Procedures, Expensive Shipping, Radiation Safety Training, and Military Base Restrictions

Going with license Exempt equipment also eliminates the risk of a surprise inspection by the state regulatory agency or NRC.
Combination Design – Backscatter and Direct Transmittion​
Asphalt using backscatter, compliant with ASTM D2950 and AASTHO T 355.

ASTM D2950: Standard Test Method for Density of Bituminous Concrete in Place by Nuclear Methods

AASHTO T 355: In-Place Density of Asphalt Mixtures by Nuclear Methods

Soil using direct transmission and backscatter, compliant with ASTM D8167.

ASTM D8167: Standard Test Method for In-Place Bulk Density of Soil and Soil-Aggregate by a Low-Activity Nuclear Method (Shallow Depth)
Accurate
Lab tested to hold similar accuracy as licensed nuclear gauges

Extremely accurate and more reliable than non-nuclear devices

Saves time due to not needing an offset/correlation
License Exempt nuclear density gauge, only available through Troxler.
Measurement Specifications

Reading Depths

Backscatter (~top 3.5" measured)




2-12" Direct Transmission

Reading Times

BS: 30sec, 1min, 2min, 3min, 4min




DT: 1min, 2min, 3min, 4min

ASTM Compliance

ASTM D2950 and D8167

Source Activity

90microCuries

Moisture Measurement

Bluetooth connected capacitance probe




Manual entrry

Mechanical Specifications

EGauge Size (H x L x W)

24.6" x 15.4" x 9.2"




625mm x 391mm x 234mm

Moisture Probe Size (H x L x W)

8.2" x 13.6" x 5.6"




208mm x 346mm x 142mm

Moisture Probe Size (H x L x W)

31.3" x 20.4" x 15.5"




795mm x 518mm x 393mm

Weight

33 lbs (14.97 kg)

Shipping Weight

83 lbs (38 kg)

Screen

Backlit 4×20 LCD

Electrical Specifications

Main Power Source

NiMH rechargeable batteries

Backup Power Source

5 AA alkaline batteries

Charge Source

12 V DC, 2A
Features: Auto Depth, LED Charger Indicator, GPS, Bluetooth, Remote Keypad, USB Port, Data Storage – 1,000 readings, Serial Port, and External Beeper.
Case Features: Extendable Handle and Wheels
| | | | |
| --- | --- | --- | --- |
|   | EGauge Combo | Non-Nuclear | Cores |
| Measures | Density | Relative Density | Density |
| Accuracy | Matches core and is industry standard | Correlations needed | Industry standard |
| Destructive | No | No | Yes |
| Reading Times | 30 seconds – 2 minutes | 2-10 seconds | Hours |
| Best Use | QA/QC | QC | QA |
| Limitations | None | Less accurate | Destructive and tested off sight |