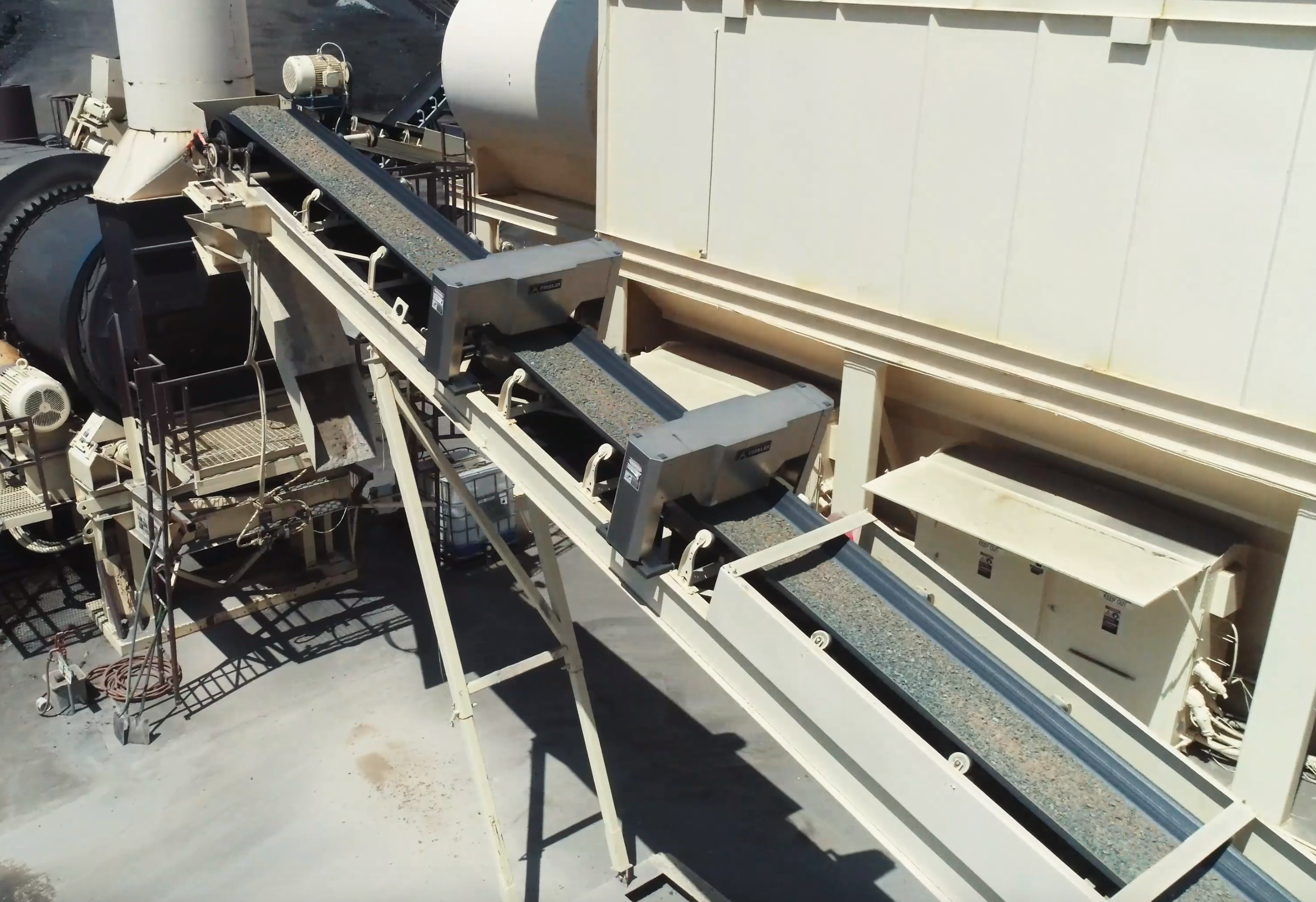 Measures Moisture Content as the Aggregate Moves Through the Plant
The MMS Model 3630 uses proven nuclear technology to continuously monitor moisture in your aggregate mix.
The moisture measurement occurs as the mix moves through the plant on the conveyor belt. There is no physical contact with the aggregate mix or belt. The system provides a continuous reading of the moisture content. The moisture content, combined with the knowledge of the mass proportions of the other components in the mix, provides you with a precise and reliable moisture content of the aggregate.
Saves Time and Money
An unknown change in moisture of the raw materials (often due to weather) will have a large impact on the quality and performance of the product made at your asphalt plant. With the MMS, moisture content of the combined aggregate is always known.
Knowing the correct dry weights of aggregate allows for more accurate mixing, resulting in savings by eliminating wasted binder. Additionally, knowing the moisture content of the aggregate mix entering the drum allows optimum temperature control resulting in additional savings from fuel.
Moisture Data can be Sent to Your Controls or Displayed in the Control Room
The MMS sends a standard signal as a current or voltage which can be sent to the control system for display to aid in the control of the plant parameters.
An optional control center is available to display, archive, and print the moisture data for your company's requirements.
Specifications
Measurement Specifications

Precision (expressed as 1 standard deviation) @ 3% wt/wt Moisture and 2.2 g/cm3 density

                     Count Time

5 seconds

10 seconds

3" thick sample

±0.4 to 0.5% wt/wt

±0.3 to 0.4% wt/wt

4" thick sample

±0.32 to 0.4% wt/wt

±0.25 to 0.32% wt/wt

5" thick sample

±0.28 to 0.35% wt/wt

±0.22 to 0.28% wt/wt

Mechanical Specifications

Top Enclosures

    Dimensions

    Weight

 

18.8" x 14.5: L x 57.5" W

57.2 lbs.

Bottom Enclosure 1

    Dimensions

    Weight

 

6.8" H x 15.75" L x 15" W

62.4 lbs.

Bottom Enclosure 2

    Dimensions

    Weight

 

9.5: H x 15.75" L x 15" W

62.4 lbs.

Mounting Frames

    Dimensions

    Weight

 

30.1: x 19" L x 53" W

55.7 lbs.

Electrical and Environmental Specifications

Operating Temperature

32 ° to 140 ° F ( 0 ° to 60 ° C)

Humidity

98% non-condensing

Supply Voltage

120 VAC (±10%), 1A, 60 Hz

Standard Signal Output

0 to 20 mA, 4 to 20 mA or 0 to 10V isolated analog output

User Interface

(HMI for Maintenance)

8.0" Fanless Industrial Touch Panel PC

IP65 rated front panel

1024 x 600 (WSVGA) Native resolution

Radiological Specifications

The MMS contains small sealed radioactive sources. The system is registered as a generally licensed device and distributed as such.